[Event]

2019 ASIA RANKING BATTLE!

2019-03-20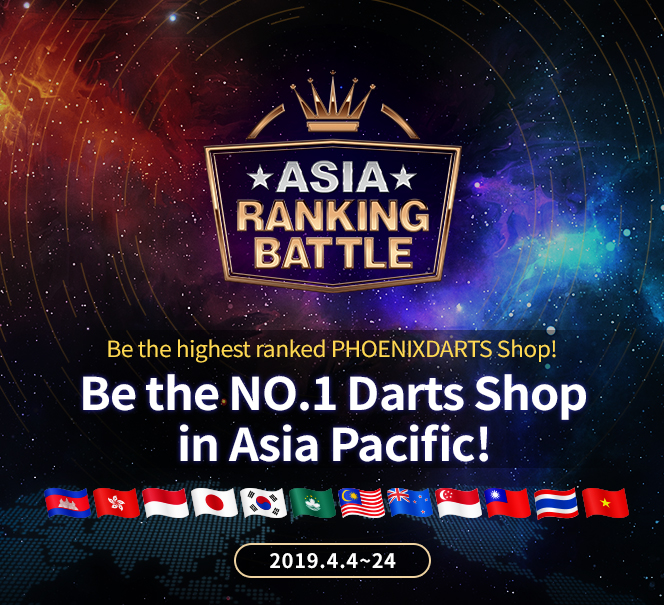 Asia Pacific Ranking Battle Announcement
Asia Pacific Ranking Battle Will Be Open On April 4, 2019!
Who Will Be The NO. 1 In Asia Pacific Countries?
We are waiting for you to be the TOP in Asian Pacific Ranking Battle!

Asia Pacific Ranking Battle Information
Asia Pacific No.1 shop and local shop No.1 players will be awarded based on the earned points from 4/4 to 4/24.
(Ranking Battle will be open from 4/4 12PM to 4/24 11:59AM Korea Standard Time(GMT+9))

How To Earn The Points
Play Point: 1 point is given by each game played in a 3 leg match (01 Game-Cricket) with the player's card touched.
Winning Point: Point is given by the number of winning legs.
- Only applies to 1:1 games in 3 Leg medley(01 Games, S. Cricket).
* 5 Leg and 7 Leg medley excluded.
- Points given: 2:0 win = 2 points / 2:1 win = 2 points / 1:2 loss = 1 point / 0:2 loss = 0 point
Shop Point: Play points earned at the shop+ winning points

Asia Pacific Ranking Battle Information
1.

LIMITED EDITION rewards will be given to the Top Ranked shops and Top Ranked players.
Category
Subject
Rewards
PLAYER
(Top 20 shops in each region)
1st

LIMITED EDITION

STYLE + SOUND + MARK AWARD
2nd

LIMITED EDITION

STYLE + MARK AWARD
3rd

LIMITED EDITION

STYLE
NO. 1
SHOP
CERTIFICATE PLATE + SPOT AD
ASIA PACIFIC
Spot Ad on all Asia Pacific +

Crystal Plaque

NATIONAL
Spot Ad on all National +

Gold Certificate Plate

REGIONAL
Spot Ad on all Regional +

Silver Certificate Plate

GOODS
(DARTS ACCESSORIES & BANNER)
ASIA PACIFIC
BEST DARTS BARREL 5EA + FLIGHT-L 10EA + FIT FLIGHT 10EA
BANNER 5EA
NATIONAL
BEST DARTS BARREL 1EA + FLIGHT-L 5EA + FIT FLIGHT 5EA
REGIONAL
BANNER 2EA
2. Awards
1. Asia Pacific NO. 1 Shop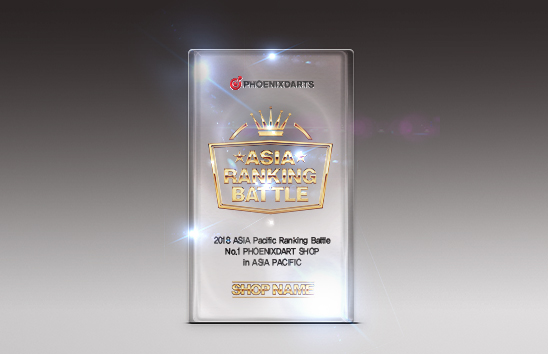 Crystal Plaque + Spot Ad on all Asia Pacific Machines
(Winning Shop Name Engraved with Gold)※ The above images may differ from actual product.
2. Player

Style

Mark Award Sound
3-1. Shop (Certificate Plate + Machine Spot AD)

3-2. Shop (Goods)
GOODS
ASIA PACIFIC
NO. 1 SHOP
NATIONAL
NO. 1 SHOP
REGIONAL
NO. 1 SHOP
BEST DART BARREL
5EA
1EA
-
FLIGHT-L
10EA
5EA
-
FIT FLIGHT
10EA
5EA
-
BANNER
5EA
-
2EA
3. Asia Pacific Ranking Battle Participating Countries
(Alphabetical Order)

※ Cambodia, Hong Kong, Indonesia, Japan, Korea, Macau, Malaysia, New zealand, Singapore, Taiwan, Thailand, Vietnam
4. Regional Classification
Region Groups
ASIA
ASIA PACIFIC 12 Nations
Singapore
Region 1
North + Central + East + West
5. How to Check my Ranking?
1) Players can check their ranking from the website.


Log in > Competition/Event > Ranking Battle

2) Ranking Progress is accessible on the Phoenix website or our mobile app.
3) Ranking cannot be checked from the machine.
4) In case the point is the same, the shop that earns the point first is advanced to a higher rank.

How to participate in the event
1. Choose MATCH game from main menu

2. Choose 3 LEG / Choose the game

* Only applies to 01GAMEs and STANDARD CRICKET

3. Play the game

4. Check your ranking and points from the Mobile App