[Event]

The Independence Day Champion

2020-06-25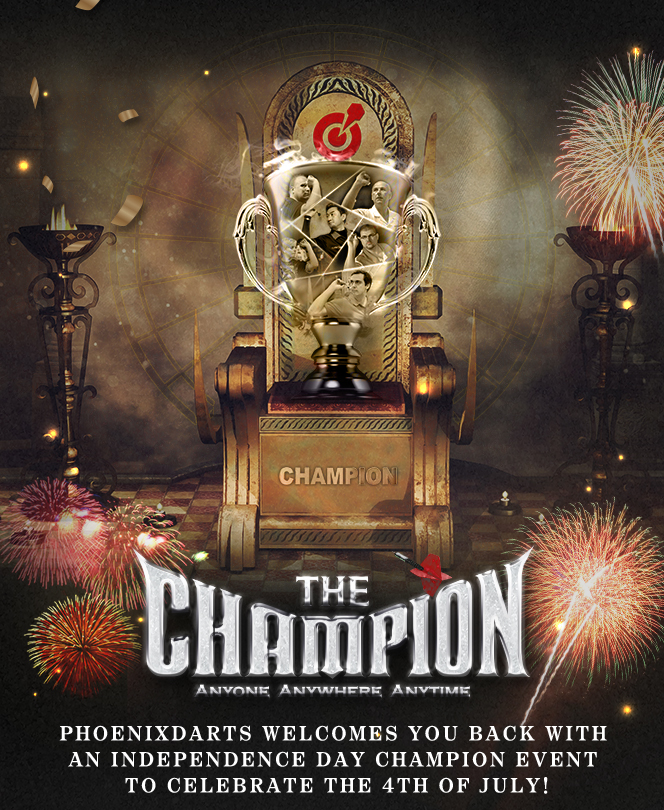 2020 Has been a tough year but thankfully things are slowly returning back to normal. Since we are fresh out of lockdown, we urge that you remain respectful of other players and maintain social distancing whenever possible! We have chosen to run The Champion because it is by nature a single player competition. Phoenixdarts is not responsible for any harm that may come to our players who participate in this event. That being said, it's about time you dust off your darts and enjoy some good old-fashioned competitive darts!
You can register for The Independence Day Champion at any time during the event period on any Phoenix dart machine that is connected online. You will be automatically placed into a division based on your General Rating, just sign up and start playing!
Event Details :
7/4/2020 (SAT, 12:00AM PST) – 8/2/2020 (SUN, 12:00AM PST)
Fees : $0.50 per game
Type : 01 Game
Minimum Games : Minimum of 10 Champion games required to be ranked
Divisions, Formats and Caps :
Bronze
(501, Full Bull, Open In, Open Out)
2 – 7 General Rating
Silver
(501, Full Bull, Open In, Open Out)
8 – 13 General Rating
Gold
(701, Full Bull, Open In, Master Out)
14 – 19 General Rating
Platinum
(701, Split Bull, Open In, Double Out)
20+ General Rating
Prizes :
Each division will have the prizes below.
1.

$300.00 + Wolfman Productions Jersey

2.

$200.00

3.

$150.00

4.

$100.00

5.

$75.00

6.

$50.00

7.

Merchandise (TBD)

8.

Merchandise (TBD)
Additionally, participants will be given 1 raffle ticket for every 5 Champion games played. The raffle will be drawn after the Champion event has ended. Raffle prizes will be various merchandise from our sponsors (ex: dart cases, towels, tumblers, etc).
Rules :
The top 10 highest PPD 01 games from all the Champion games you play in this event will be averaged and decide your place in the rankings. You will need to play a minimum of 10 Champion games to establish your Champion AVG but you can play as many games as you'd like in order to maximize the average PPD of your top 10 games to climb up the rankings. Phoenixdarts reserves the rights to bump players into a higher division at any time if there is evidence of sandbagging/overachieving. Players who are bumped will need to start from scratch in their new division. Please notify Phoenixdarts if you feel that you have been placed in a division that you do not belong in! If players are caught cheating or acting dishonestly in order to gain a competitive advantage, the player will be removed from the event with no refunds given.