[Event]

Enjoy the "Tournament" with the HOUSE TOURNAMENT function

2021-03-31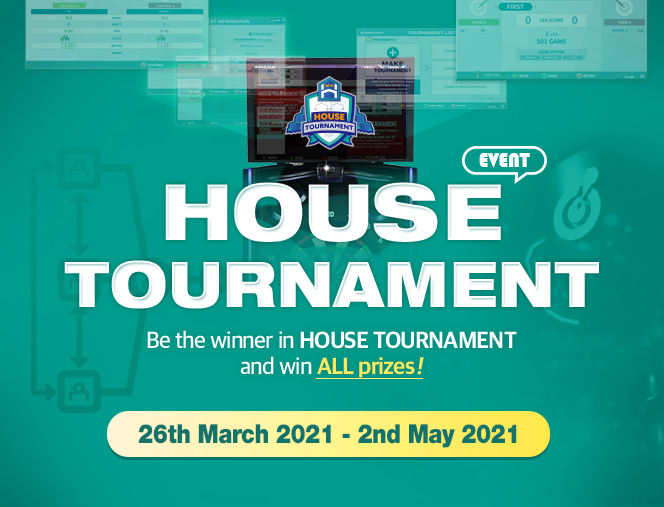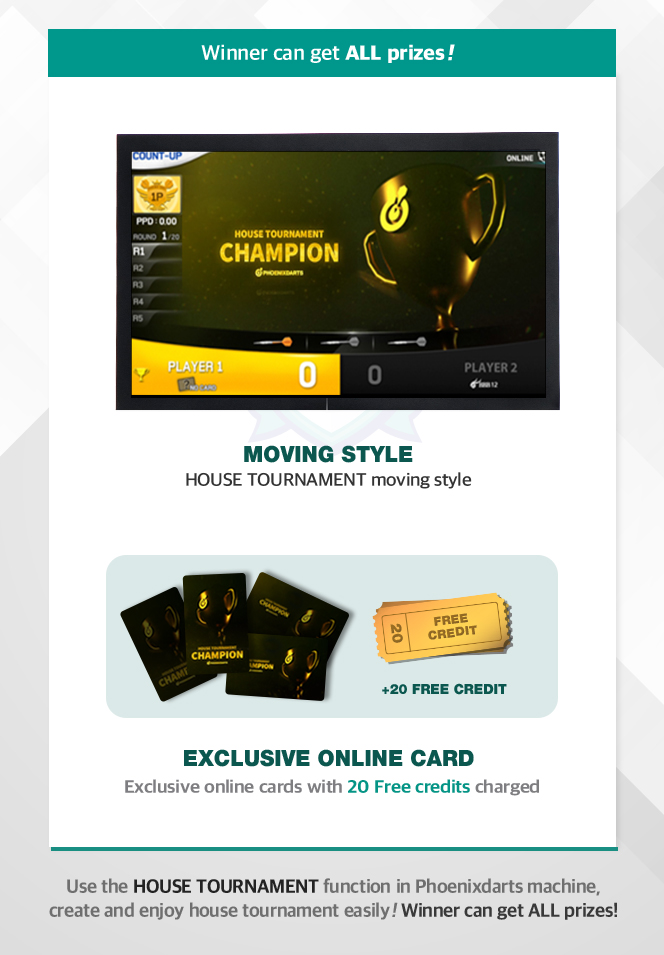 1.

Period : 26th March 2021 - 2nd May 2021

2.

Any shop with PHOENIXDARTS machines.
※ The machine must be connected to the internet

3.

Participant Qualification : Any player who has the Phoenix Online Card

4.

Entry Fee : Free of charge
1.

Player who used HOUSE TOURNAMENT function in machine and win the game.

2.

Prize will be given only 1 time during event period. Duplicate prizes are not allowed.

3.

Only completed tournament using the HOUSE TOURNAMENT Function is allowed. If tournament is stopped in the middle or not completed, that tournament is not eligible.

-

Only when data are stored in the Phoenix Dart system and can be checked, it is consider as 'completed tournament'.
1.

MOVING STYLE (HOUSE TOURNAMENT moving style) : Winner of the House Tournament per every week during event period.

2.

EXCLUSIVE ONLINE CARD and 20 FREE CREDITS: 20 Free credit will be charged to online card, and charged online card will be given after event is finished.

3.

One player can only win once.
Visit PHOENIXDARTS shop

Visit any shops that offer Phoenixdarts machines.
SHOP SEARCH >

Play「HOUSE TOURNAMENT」

Select [HOUSE TOURNAMENT] on machine [MATCH]

Create Tournaments & Play

Select MAKE TOURNAMENT(Create Tournament) and play the game
·

For more details, please contact:
Stephanie 017-393 5688
Allan Lee 016-234 9448
Iskandar 017-672 0698
CK Cheng 012-340 5752