[Notice]

Revolution 2019

2019-05-27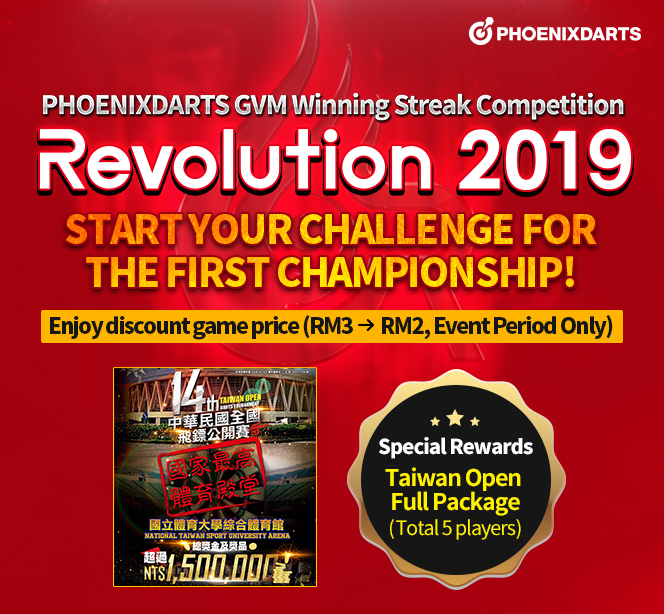 The winner is decided based on the longest winning streak!
Check your status and standings real time after playing a Revolution match.
This is an indicator for the 5 entry division in Revolution!


Platinum
Gold
Silver
Bronze
Iron

Enter the top ranking at any time during the event period!
Revolution 2019 Official Website
Competition Period & Venue
1st STAGE : 20th June (Thu) Noon ~ 15th July (Mon) Noon

All PHOENIXDARTS shops
Any player with a Phoenix Club Card can participate for free.

2nd STAGE : 25th July (Thu) Noon ~ 12th Aug (Mon) Noon
---
Qualifications
1st STAGE : Any player with a Phoenix Club Card can participate.
2nd STAGE : Top 50 players from the 1st Stage of each division
· Revolution Rank
| Rank division | Game description | Ratings |
| --- | --- | --- |
| Platinum | 701 (OI/MO) / CRICKET | AA18 ~ above (unlimited) |
| Gold | 501 (OI/OO) / CRICKET | A14 ~ AA17 |
| Silver | 501 (OI/OO) / CRICKET | BB11 ~ BBB13 |
| Bronze | 501 (OI/OO) / CRICKET | B8 ~ BB10 |
| Iron | 501 (OI/OO) / CRICKET | Below CCC7 |
Each game has 15 rounds. / All matches are decided by a coin toss.
If players are tied on the standings, the following criteria determine who advances to the next round. : The longest winning streak > Win rate > Ratings > Number of games played
If a player shoots better than the division's rating cap 5 matches in a row, the player is automatically ranked up to the next division.
The winning streak and the win/loss (win rate) reset, but the game counts, PPD and MPR do not.
---
Rewards
Category
Subject
Rewards
ITEM
1st GAME
all participating players

Revolution FREE STYLE
5 Games
all participating players

Revolution AWARD ITEMS
※ Win one Award item for every five games played. (Randomly)
Special Rewards
1st STAGE
50 players

The limited edition Revolution holographic card
(50 players per division / all players advancing to the 2nd Stage)
2nd STAGE
3 players

Top 3 players in the 2nd Stage will earn a unique STYLE using their own photo!
Champion
(Each Rank)

1. Special Revolution Trophy
2. Taiwan Open Full Package(Entry + Hotel + Flight)
The items won by completing Phoenix Mission can be used for up to 90 days. These items are not available for purchase from Item Shop (Period of use can be extended with Gold.).
---
HOW TO PARTICIPATE
Step 1: On the main menu of the machine, select "Competition" → "Revolution". Then, scan your card.

Participants are placed in divisions automatically based on their online card ratings. The division is automatically calculated based on the online card rating.
An eligible Phoenix Club Card must have a minimum of 10 game counts (01 GAME and/or CRICKET).

After selecting Opponent, the competition begins!

You must play after selecting "Revolution".
At least 5 matches must be played during the stage period for the player to be displayed on the standings.
The opponent selection screen displays some of GVM players as well and you can request to play against them.
You cannot play against players in a lower division, opponents must be in your division or higher. Ex) Bronze players can play against bronze, silver and gold players.
For cricket only, platinum players can play against gold players.

Check your personal record and ranking real-time after a match in Revolution!
Ranking Check
---
NOTICE
Players must properly greet each other through the camera before the match begins. Inappropriate behaviors that disturb game play are strictly forbidden. PHOENIXDARTS may forfeit players if evidence of inappropriate behavior has been submitted.

If a match is cancelled due to online connection issues, the match will not count and will not affect the Revolution records. (Including unstable connection, the opposing player canceling the game, etc) Additionally, PHOENIXDARTS is not responsible for the relevant situations.

Entering multiple cards is allowed for the 1st Stage, but after the 1st Stage is over, only the highest-ranked card will advance to the next round.
---
Information
The event information is frequently updated on the current website. The information on the website are the official "Revolution 2019" rules. Any information or match time can be changed without notice.
---